Now that the first
Calgary MMAR Patient Support Group
(some say Alberta's first legal medical cannabis vapour lounge) meeting was announced and is history. It has come to my attention there is some concern and even confusion in regards to my physical presence at that gathering. People are correct that for many years now I have publicly (media, public events and so on) admitted to consuming cannabis for decades and publicly refuse to apply for a Health Canada Medical Marihuana Access Regulations (MMAR) exemption. Why would I do this? I felt I needed to make a strong statement of my own. The whole time the Health Canada MMAR program has been in operation it was setup by the Canadian government to fail miserably. Still over a decade later nothing has change even after 1000's of deaths and numerous Canadian court ruling, to many to list here, clearly stating the Health Canada MMAR program unconstitutional and that the government has a year to fix it. Still very little has changed for the betterment of sick and dying Canadian's and of course the court battles still continue sadly.
November 01, 2011
Sharon Kirkey reports, Ottawa Citizen
Keith Fagin has been consuming cannabis for 40 years for pain. The Calgary man, who is active in the medicinal marijuana movement, has helped people get a Health Canada exemption, but he refuses to apply for one himself, "because it is unconstitutional."
Many of you will already know Calgary and Alberta is still a strong hold of loyal Harper conservatives even today.
July 4 / 2012
By Mark Kennedy, Postmedia News
"Opposition to decriminalization is strongest in Alberta, where 42 per cent of people don't like the idea."
Debbie and I have had a goal to open a location where like minded people could meet and work on education, social justice strategies, advocacy, activism and consume cannabis openly with other like minded people without fear. In fact we did make this happen in Calgary for a short time at least. Late 2008 Calgary 420 got lucky when a member donated a 1000 sq. ft. space with all bills paid for a period of 7 months. In fact the Calgary Police Service would stop for a friendly chat if we were outside. The City of Calgary even addressed a letter to us there. The letter said they had created a new bylaw and our event, the 5th Calgary Global Marijuana March no less, would not be allowed. See the City of Calgary (silly hall) letter
http://calgary420.ca/cityhall/cityhall_2009.pdf
in fact we got another silly hall letter in 2010 as well. Of course our annual Global Marijuana March 420 community events still went ahead as advertised and with out any more issues from silly hall.
The point is they knew where and what Calgary 420 was up to during those months and left our awesome community of volunteers to keep it open 7 days a week unrestricted. We have continued since working with a lot of strong supporters in our community many of our long time sponsors included to open cannabis vapour lounges in Calgary as well as other locations in Alberta.
Now with that bit of information is out of the way I feel I can better explain why I was allowed to attend the first Calgary MMAR Patient Support Group gathering when it is clearly advertised a valid Health Canada MMAR exemption is required. I know this is strictly enforced as Debbie and I were there start to end. So clearly I must have a valid Health Canada MMAR exemption now.
Why and when did Keith Fagin apply for a Health Canada MMAR exemption?
Debbie and I came to realise to achieve our communities permanent vapour lounge goals we would need to find a way we could open and stay open just like other cities in Canada that have a number of choices in regards to a cannabis vapour lounges. By now you know this is going to be difficult to do in Calgary and Alberta. We need to take a much different approach in Alberta then other provinces in Canada. The permanent vapour lounge to open later this year will have to remain restricted to Health Canada Medical Marihuana Access Regulations (MMAR) exemption holders only at least for the near future. In 2011 Lisa Kirkman was having much success educating Alberta Health Services about why Health Canada MMAR exemption holders should be allowed to vaporize their cannabis medication in Alberta hospitals. Lisa then started to work on Alberta Health Services and Sheldon Chumir Health Centre to donate a well equipped free space for Health Canada MMAR exemption holders to socialize and also be allowed to medicate responsibly in the Sheldon Chumir building during these gatherings. I then promised Lisa and Debbie I would apply for a Health Canada MMAR exemption so I could help more to move this ground breaking project forward in Canada. Alberta Health has recognized chronically ill people who get out of the house and socialize at least in some capacity on a regular basis do better in general and require less intervention by the healthcare and social welfare systems. Some say Alberta's first legal medical cannabis vapour lounge has been created in Calgary with the strong support of the Alberta Health Services, the Sheldon Chumir Health Centre and DKF Med Care! That is one of the many important reasons why I finally applied for a Health Canada MMAR exemption.
So lets get to the when I applied for a Health Canada MMAR exemption.
March 12 / 2012 (Bill C-10 voted on parliament) I placed my Health Canada MMAR application in the mail.
Thank you to all the many people that have had a part in all our communities positive actions!
The weather for the 3rd Annual
Treating Yourself Expo
in Toronto, Ontario was once again hot with high humidity. Debbie and I arrived Thursday so we could tour the expo floor as exhibitors were setting up their display booths. Gives us a chance to talk with old friends about all the new and improved products and services being made available to our community this year. The 3rd TY expo was, as I expected it be, more fun and informative then both previous years events.
I can't pin down just one display booth that I liked best but there were many I really liked. One favourite of mine was the
Steep Hill Lab Inc. Cannabis Analysis Laboratory
service that was provided through out the 3 day Expo. I had to take advantage and get some hydroponically grown
Serious Seeds
AK47 and
DNA Genetics
OG Kush samples tested. Once the bag was opened the dank odour of DNA's OG Kush produced a comment instantly "wow what the hell is that you have there" from one of the people standing in front of the testing booth. Dean from DNA happened to be close by as well and he knew right away it was DNA OG Kush. After many interesting positive comments from the crowd around the test booth, Dean, Debbie and I headed back to the DNA display booth to discuss this in further detail. Thanks to DNA for the freebie and we will make sure we share a sample of the end results next year too.
Every year at the Treating Yourself Expo we have seen so many friendly, happy people with smiling faces the only way a person couldn't have a really great time is to not attend at all. Every year Debbie and I so look forward to meeting more like minded individuals along with spending good quality time with so many old friends that alone is priceless in it's self. If you have ever attended a pro cannabis type event like this you will know real well what I mean.
The awesome glass blowers competition was new this year. Next year will bring world class glass artists from around the world no less. We are really looking forward to seeing this world class competition happen live next year. Even if you can't make it to Toronto in 2013 for the
4th Annual Treating Yourself Expo
you can still watch it live via
Pot TV
.
The biggest highlight of the whole time in Toronto for us was when we got to have a drink and a meal with
John Conroy
(President of
Norml Canada
) at the Friday night VIP party. The heat and humidity did force Debbie and I to leave the Friday VIP party venue earlier then we would have like though.
Saturday night we were invited to
Skunk Magazine's
private Breeder's Bash (world class cannabis seed breeders gather for some private fun times) at Puff Mama's Bakery venue. Among the entertainers provided was Precious Chong, Tommy and Shelby Chong's daughter. A funny woman and as nice as her mom and dad too. This was our first time seeing her live on stage.
It was impossible not to get very well medicated at the venue with girls constantly offering up wine glasses filled with perfectly rolled filtered joints to all attending. The venue was of course hot boxed as you can see in the pictures.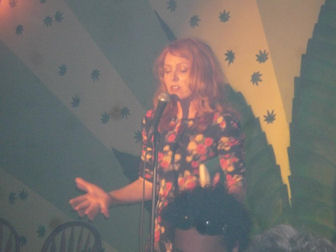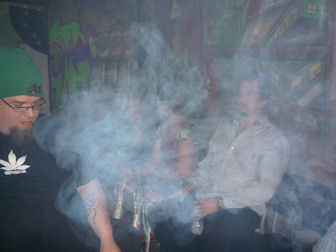 What is even better still is Marco Renda is looking into a second TY Expo show in Vancouver next year (Oct. or Nov.) as well as the already scheduled 4th annual Treating Yourself Expo in Toronto last weekend of May 2013.