The six
Alberta 420 events
in Calgary, Edmonton, Grand Prairie, Lethbridge, Medicine Hat and Red Deer for 2015 all had good weather and good number of attendees. Debbie and Keith Fagin said this year was a record number of people attending in Calgary since they stared organizing 420 events in Calgary in 2006, 2007 and 2008. Then 2009, 2010, 2011, 2012 and 2013 Debbie and Keith attended
Alberta 420
events in Edmonton at the Alberta legislature grounds. Keith was a speaker and both were volunteer organizers in 2010, 2011, 2012, 2013 which was the last year Calgary 420 attended a 420 event in Edmonton.
2013
Bongs and Such
rented a 48 person luxury coach to transport Calgary 420 volunteers and organizers to the Alberta legislature. 2013 was also the first year
Bob Erb
sponsored many
drug policy reform organizations
and some businesses for 420 events across Canada.
Lethbridge 420 0rganizer Fiona got good media attention on April 21 in Lethbridge Herald, CTV and Global TV. Fiona did report some courteous interaction with local police but no arrests. Fiona also organized a march from city hall to a local park.
Terrace B.C. where Bob Erb lives weather was raining and cool.
Terrace Standard media
reported numbers were down from last year.
Picture gallery here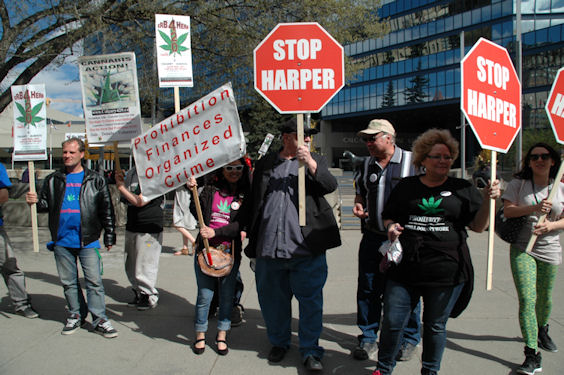 Erb4Herb 420 event at Calgary city hall April 20, 2015.
Calgary, Alta. media:
Lethbridge, Alta. Media:
Terrace, B.C. Media:
_____________________________________________________________