The weather for the 3rd Annual
Treating Yourself Expo
in Toronto, Ontario was once again hot with high humidity. Debbie and I arrived Thursday so we could tour the expo floor as exhibitors were setting up their display booths. Gives us a chance to talk with old friends about all the new and improved products and services being made available to our community this year. The 3rd TY expo was, as I expected it be, more fun and informative then both previous years events.
I can't pin down just one display booth that I liked best but there were many I really liked. One favourite of mine was the
Steep Hill Lab Inc. Cannabis Analysis Laboratory
service that was provided through out the 3 day Expo. I had to take advantage and get some hydroponically grown
Serious Seeds
AK47 and
DNA Genetics
OG Kush samples tested. Once the bag was opened the dank odour of DNA's OG Kush produced a comment instantly "wow what the hell is that you have there" from one of the people standing in front of the testing booth. Dean from DNA happened to be close by as well and he knew right away it was DNA OG Kush. After many interesting positive comments from the crowd around the test booth, Dean, Debbie and I headed back to the DNA display booth to discuss this in further detail. Thanks to DNA for the freebie and we will make sure we share a sample of the end results next year too.
Every year at the Treating Yourself Expo we have seen so many friendly, happy people with smiling faces the only way a person couldn't have a really great time is to not attend at all. Every year Debbie and I so look forward to meeting more like minded individuals along with spending good quality time with so many old friends that alone is priceless in it's self. If you have ever attended a pro cannabis type event like this you will know real well what I mean.
The awesome glass blowers competition was new this year. Next year will bring world class glass artists from around the world no less. We are really looking forward to seeing this world class competition happen live next year. Even if you can't make it to Toronto in 2013 for the
4th Annual Treating Yourself Expo
you can still watch it live via
Pot TV
.
The biggest highlight of the whole time in Toronto for us was when we got to have a drink and a meal with
John Conroy
(President of
Norml Canada
) at the Friday night VIP party. The heat and humidity did force Debbie and I to leave the Friday VIP party venue earlier then we would have like though.
Saturday night we were invited to
Skunk Magazine's
private Breeder's Bash (world class cannabis seed breeders gather for some private fun times) at Puff Mama's Bakery venue. Among the entertainers provided was Precious Chong, Tommy and Shelby Chong's daughter. A funny woman and as nice as her mom and dad too. This was our first time seeing her live on stage.
It was impossible not to get very well medicated at the venue with girls constantly offering up wine glasses filled with perfectly rolled filtered joints to all attending. The venue was of course hot boxed as you can see in the pictures.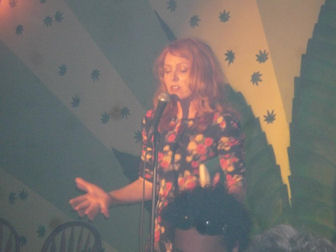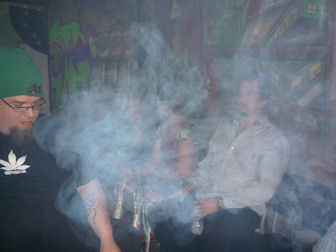 What is even better still is Marco Renda is looking into a second TY Expo show in Vancouver next year (Oct. or Nov.) as well as the already scheduled 4th annual Treating Yourself Expo in Toronto last weekend of May 2013.
Friday, April 20 / 2012
.
This years event was hosted by Alberta 420, Calgary 420, Edmonton 420, Sunshine and Grass, Alberta Marijuana Party and Doc Reefer.
15,000 people attended this year up 5000 from 2011. Norml Canada's Keith Fagin was invited as a guest speaker. Media coverage in Alberta varied from 660 New Radio in Calgary, the Calgary Herald newspaper to CTV Edmonton recording the event and interviewing Keith Fagin for the local evening news broadcast.
There were people wearing Norml Canada's I Am Cannabian, Green Party and the NDP Party t-shirts as well as the usual assortment of cannabis gear. Drum circles, tight rope walking and other activities were happening all over the Legislative grounds and all around the Alberta Legislative Building.
Edmonton 420 provided the audio and microphone equipment for the music and speeches and 75 garbage bags as well as all the volunteers to clean up all the Legislative grounds after the event ended.
Alberta 420 gave away free Treating Yourself and Skunk magazines, posters, stickers and t-shirts.
More about the event on the Facebook page click here