The Canadian Police Association's (CPA)
"Top Ten Myths"
About Illicit Drugs and Enforcement
Since we sold out at the first annual Alberta ExtravaGANJA Comedy Tour and everyone had such a great time I realized we needed to have more space for this year. Double the capacity and we came close to selling out for the second time. As always Calgary 420 strives to take each year of activism to the next level and the same goes for all we do. Howard did the same with 6 comics booked for this years comedy tour show which included Daryl Makk, Stan Thomson, James Moore and Howard Dover of course. On that note...
Official Calgary White Hat Ceremony at Calgary international airport for Howard Dover started off this years plans.
Howard's plane arrived early so some people missed out on the white hat ceremony but it was still good fun. As always Howard the funny man he is had us all laughing with in minutes of his arrival.
Howard took the official Calgary White Hat oath on Sept. 10 / 09 in front of the "Big Head" (Sam Livingston first registered Calgarian). Youtube video clip here.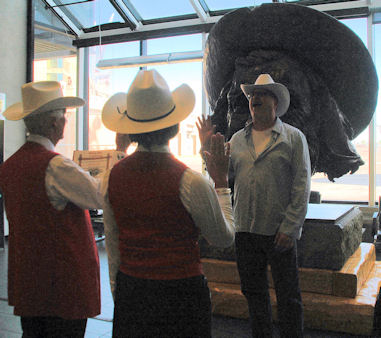 Next stop was a local western style restaurant for some Alberta beef. Calgary 420 members were wearing their Calgary 420 t-shirts and the waiter commented now this was his kind of table to serve. We all decided what better tip for the waiter then two tickets to ExtravaGANJA Comedy Tour. The waiter did come to the comedy show and brought some friends with him.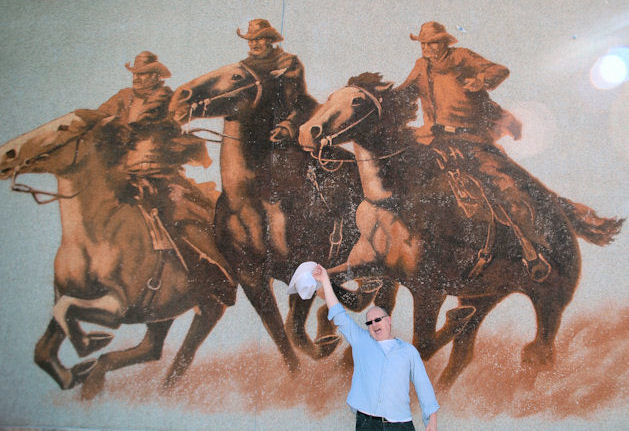 Friday Debbie and I picked up Howard and went to visit some of our most supportive hemp stores. Bongs and Such, Hemporium and Hemp Roots. We saved The Next Level visit for Sunday. KDK Distributors (closed on weekends) is also a very strong supporter of our efforts and ExtravaGANJA. After a short break we took Howard to Kelly Christie's comfortable home to enjoy the evening on Kelly's now famous cannabis couch ( many activists from across Canada have sat on that couch).
Saturday proved to be a busy day for Debbie and I as we got everything organized and loaded for the fun times Saturday evening which included hundreds of Mr. Christie's tasty baked treats. 6:00 PM event marshals gathered at Dover Community Hall to setup for the comedy show including the Edmonton 420 Cannabis Community crew who were catering the event for us. People were starting to show up before the doors opened at 7:00 PM and they even pitched in and helped get ready for the comedy show. Activists John and Marie Shavlukwere in Calgary from the west coast and arrived to join in the great fun with liked minded folks. Additionally we had Lisa Kirkman (Mamakind) editor for Skunk Magazineon hand to autograph the latest issue of Skunk.  Lisa also has written for High Times magazine, CelebStoner and other publications.
The venue started to fill quickly just as Howard and the other comics arrived and setup spot lights and audio equipment. As was expected Howard and the comics did not disappoint in providing loads of chuckles to the well medicated crowd through out the evening there to enjoy the comedy.
After the comedy show wrapped up it was time to get on to the draws for the glass art and vaporizers(provided by our most supportive sponsors mention earlier) and 50 / 50 draw. Howard announced the winning tickets and continued to be funny as always. Kelly and I were having so much fun giving so much glass art and two vaporizers away we almost forgot the 50 / 50 draw. Debbie as always was there to make sure that did not happen. To our surprise the 50 / 50 draw total was $290.00 for the winner.
Sunday Debbie and picked up Howard and visited our lovely friends Kacy and Annie at The Next Level.  Next stop was to get some pictures of Howard above the Saddle Dome.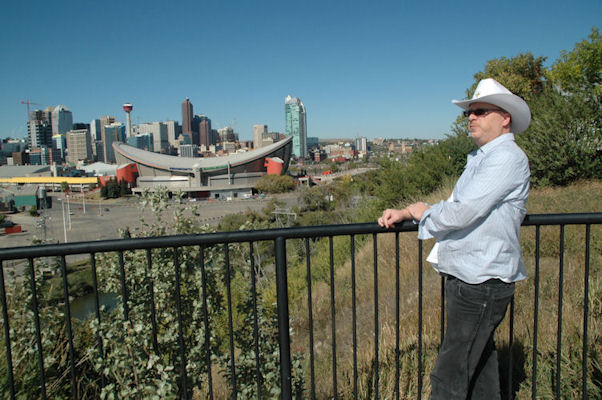 Next it was time to get some good food. Howard suggested a excellent restaurant he had seen on Edmonton Trail. Next up we went to Calgary Olympic Park (site of the 1988 winter Olympics) before heading th the Calgary International Airport for Howard to arrive in time for his flight back to Toronto.
I want to take this opportunity to thank everyone involved this year and that attended the comedy show for making this year yet another huge success and a great time. A big thank you goes out to my dad Hugh Fagin for driving 9 hours from Barrie B.C. to help with the comedy tour again this year.
Last but not least a huge thank you goes out to Treating Yourself and Skunk magazines for their strong support!