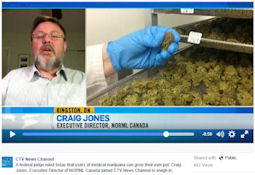 February 24 to 26, 2016
CBC TV, CTV News Channel, CBC Radio, Vancouver Sun and The Globe and Mail
John Conroy, President of Norml Canada, Craig Jones, Executive Director of Norml Canada and Kirk Tousaw, Pacific Regional Director of NORML Canada comment on
Allard v. Canada.
#allard
---
NORML Canada
(Ottawa, Ontario – February 23, 2016) -- The federal government should instruct police forces and Crown Prosecutors across Canada immediately to halt all criminal investigations, charges and prosecutions related to simple possession of marijuana while it proceeds with its initiative to legalize the plant, according to Canada's oldest advocate for the reform of cannabis laws.
"Since everyone agrees that is well past time to end the criminalization of cannabis," Dr. Craig Jones, executive director of the National Organization for the Reform of Marijuana Laws in Canada (NORML Canada) said, "and the only point of discussion left is how to do it, it seems cruel to continue criminalizing more Canadians."
"It is like refusing to fix a leaking faucet because you intend to renovate the bathroom … one day soon. It just doesn't make sense."
According to Dr. Jones, the government has identified several "stumbling blocks" to immediate legalization -- which formed a major plank in its policy platform in its 2015 election campaign and an important promise in its Speech from the Throne -- and claims it must resolve these issues before it can proceed with legalization.
These so-called stumbling blocks were identified in the Liberal Party's January 2013 discussion paper, "Legalization of Marijuana – Answering Questions and Developing a Framework" (https://bc.liberal.ca/files/2013/01/DRAFT-Marijuana-Policy-Paper-Jan-13.pdf), which also provided practical ways to overcome obstacles such as those related to international conventions to which Canada is signatory.
"I urge all Canadians with an interest in stopping the further criminalization of Canadians for using cannabis – and particularly those in the Senate who will be meeting tomorrow to discuss this topic -- to read the Liberal Party's policy paper on legalizing marijuana," Dr. Jones said. "It answers most, if not all, the questions that have been raised about how best to proceed. Once it stops needlessly criminalizing Canadians, the Government can then take the time it needs to work out the details and enact legislation."
"Why not take the millions of dollars it takes to investigate, prosecute and incarcerate people for a crime no one thinks should exist and invest that money on government programs and services that actually help people?"
This is at least the third time that a political party/government has promised to stop criminalizing Canadians for cannabis use (1979 Progressive Conservative Party election platform; the Liberal Government Throne Speech; the 2015 Liberal Party election platform / 2015 Liberal Government Throne Speech), according to Dr. Jones.
"What Canadians need is for the government to declare an immediate moratorium and get on with it," Dr. Jones said. "What we don't need is more study leading to a concept for a proposal for a framework for a green paper leading to a white paper leading to …"
Dr. Jones will be attending the Senate Open Caucus on Marijuana Legalization on Wednesday 24 February and will be available for interviews following the meeting.
- 30 -
For further information or to arrange an interview, please contact:
Dr. Craig Jones, PhD
Executive Director
NORML Canada
(613) 331-1712
This email address is being protected from spambots. You need JavaScript enabled to view it.
---